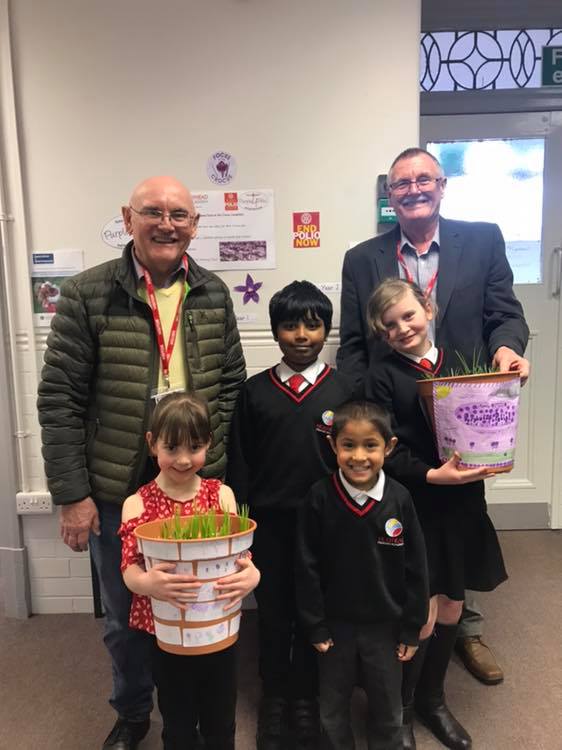 Rivers, Rivers, Rivers
Year 3 have worked really hard this half-term completing their theme 'Flow', where they learned about many different things such as the water-cycle and how rivers are formed. They even got to visit Sandwell Valley to research different wildlife that live around the water and were taught how to make their own bird feeders. They also got to go into the bird hive and use binoculars to look for different birds. In the final week of term, they created a showcase which they shared with the other classes to teach them about what they had learned. Some children even chose to create some water inspired art linked to their work on Monet.
Swimming Success!
Year 3 and 4 have conducted their swimming lessons this half-term. Two children in year 3, Tyler and Shifah, were both very nervous and didn't want to go into the water. However, by the end of the term Tyler could swim with a float and Shifah managed to start to swim without – what an achievement! Not only this, we also had four children in Year 4 achieve the end of Year 6 expectations in swimming, receiving a gold award. To gain a gold award they had to tread water for two minutes, swim front and back, complete life-saving skills and also be able to enter the water in different ways.
World book day
World Book Week was a brilliant week where the children learnt a lot about books, the process of writing and how amazing they are as readers! Children took part in a Bug Club and Extreme Reader Competition, which they really enjoyed. The children also had the lovely opportunity to speak to real life authors! We would like to give a massive thank you to Abi Elphinstone (author of SkySong), Kieran Larwood (author of Podkin) and SF Said (author of Phoenix). The children gained a real insight into the real-life writing process and how at Holyhead we do it very similarly! Watch out world – a new generation of authors will be ready!
Supporting charities
This half term we have worked with the Rotary Club to raise awareness for Polio with 'Purple 4 Polio' where children completed activities and designed their own crocus pots. Year 5 won the flower pot design, with Reception coming a very close second place.
We also had great fun by raising money for Comic Relief by coming into school dressed up in red. This half term also saw us raise money for Brain Tumour Research by running a mile for someone who needs our support.
Wriggle and Crawl
In Year 2, the children have loved learning all about mini-beasts and their importance in our world. The children have written non-chronological reports and an adventure story featuring mini-beasts. They conducted mini-beast hunts, kept a wormery and watched caterpillars transform into butterflies. It has been a magical theme where the children have learnt so much. They are now experts in all things creepy-crawly, giving Sir David Attenborough a run for his money by filming their own version of his nature TV programmes.
Traders and raiders
Year 4 have been learning about different time periods and how people lived. They researched two main time periods: the Vikings and Anglo-Saxons. They had an amazing Viking day where all the children dressed up, made items of clothing, wrote using Runes and much more… The class also worked alongside the Hippodrome to take part in drama workshops where they lived a 'day-in-the-life of a Viking' and built their own Anglo-Saxon houses.
Gallery Rebels
Year 6 have spent the half term looking at the world of art, covering expressionism, impressionism, cubism and other styles of art as well as researching different famous artists such as Vincent van Gogh, Pablo Picasso and Edward Munch. They started their theme by being graffiti artists, debating whether graffiti was art or vandalism, and then moved onto painting their own version of 'Starry Night' by Vincent van Gogh.
Carnival!!!
Year 1 took part in Samba drumming workshops, with the workshop leader being so impressed he moved the children onto multiple rhythms. Parents came and supported their children and enjoyed listening to the wonderful sounds that they produced. They also made carnival masks and created their own instruments and music to produce their own carnival parade, which different classes watched.
Walking like an Egyptian
Year 5have been putting themselves in the shoes of Howard Carter, taking part in workshops from the Hippodrome and re-creating the moment Howard Carter discovered Tutankhamun's tomb. After removing artefacts and studying Canopic jars, they debated whether or not they should have opened the tomb. Children have also really enjoyed reading a book called 'The Phoenix Code' where two children called Ryan and Cleo discover the Benben Stone and the hidden tomb of Nefertiti.
Eggstravaganza
We have had a lovely end to a great half-term. Children in Key Stage 1 and EYFS led an amazing bonnet parade around the school to families. Children across the school also completed an inventive egg competition – decorating eggs with creative names such as, 'WWEgg Championship', 'Egg-yptians', 'Eggwarts' and many more. It truly has been an Egg-cellent half term here at Holyhead Primary Academy.